Dental implant center for Patients in Fairfax & Loudoun county and other Washington DC Metro Areas.
Chantilly Dental & Implant Center helps patients with their implant needs from all around the Washington DC metro areas including Chantilly, Fairfax, Centerville, Chantilly,  Herndon, South riding, Manassas, Clifton, Ashburn, Reston, Vienna, and Loudoun county. Patients with crowns and bridges sometimes find themselves worrying about their dental work becoming loose or even falling out. This concern can cause them to forgo their preferred foods or limit their participation in sports and other activities, but here at Chantilly Dental & Implant Center, we have implant crowns and implant-supported bridges available for a secure fit and self-confidence boost.
What is a dental implant?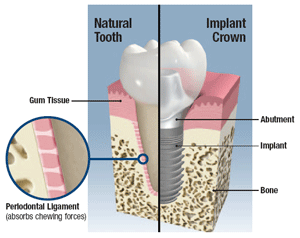 A dental implant is an artificial post that replaces the root portion of a missing tooth. It is usually made of Titanium alloy in a screw form.
A dental implant is surgically placed in a jaw bone. While most foreign objects are rejected by human body due to its immune system, made of titanium alloy, the implant is well accepted by the body without causing inflammatory reactions. Eventually, after some healing period, it is integrated with surrounding jaw bone.
Once integrated with the bone, dental implants are used to support artificial prostheses like dental crowns, bridges or dentures. There is a structure that connects dental implants and dental prostheses; implant abutment.
An implant abutment is connected with an implant usually with a screw. It is then connected to a prosthesis with either a screw or cement.
Dental implants replace the root of the missing tooth while a bridge or denture can replace only the crown (top) of it. Dental implants function like your own and bring many benefits to the surrounding tissue as your own tooth roots do. Dental implants are innovated in restorative dentistry in that few other body parts can find its real replacements.
What are types of dental implant restorations?
The types of dental implant can be used to support several types of dental restorations.
Implant Crowns
A conventional dental crown goes over an existing tooth while an implant crown replaces a single missing tooth. After placing a titanium implant, which securely anchors into the underlying bone like a tooth root, an abutment is connected to the implant and then a crown is retained on the implant either by screwing or cementing. When a single missing tooth, an implant crown is usually preferred over a bridge because it keeps the neighboring teeth intact.
Implant-Supported Bridges
An implant-supported bridge is a group of crowns held in position by multiple dental implants. This means that several absent teeth can be securely replaced with a firmly-fixed prosthesis. The number of teeth typically outnumber that of implants. A dental bridge retained by implants can be expected to last longer than a conventional bridge because implants do not decay.
Full mouth implants or denture implants are also explained in other pages.
To learn more about your implant options, you can reach us at (703) 815-0699 to schedule an appointment.